Computational poetry–literature
Mi tía es un algoritmo — My lost aunt is an algorithm
In 2012, my aunt Sandra left the family by choice and moved into the United States' west. She doesn't write back to many family members, but in 2018 she started replying to my emails. I have not been able to start new topics of conversation with her, so our chats have become combinations of the lines in the poem.
See and play with the algorithm here.
---
UNTITLED WEB3
This is my contribution to a 2019 e-book called "DECENTRALIZED Thriving", funded by a DAO created through DAOstack, which is a project connected to The Berkman Klein Center for Internet & Society, a research center at Harvard University.
The question we were asked to think about was "What is a dangerously misunderstood concept in distributed governance?" My piece are different stories arranged by an algorithm, in which the same ending is 50% "good" and 50% "bad". My response deals with the dangers of shadow hierarchies, narcissism, and the chance to do good.
See a web version available for interaction here.
---
SHRIMP CAT 🍤 🐈
A computational story based in my cat's love for shrimp.
Read the story here.
---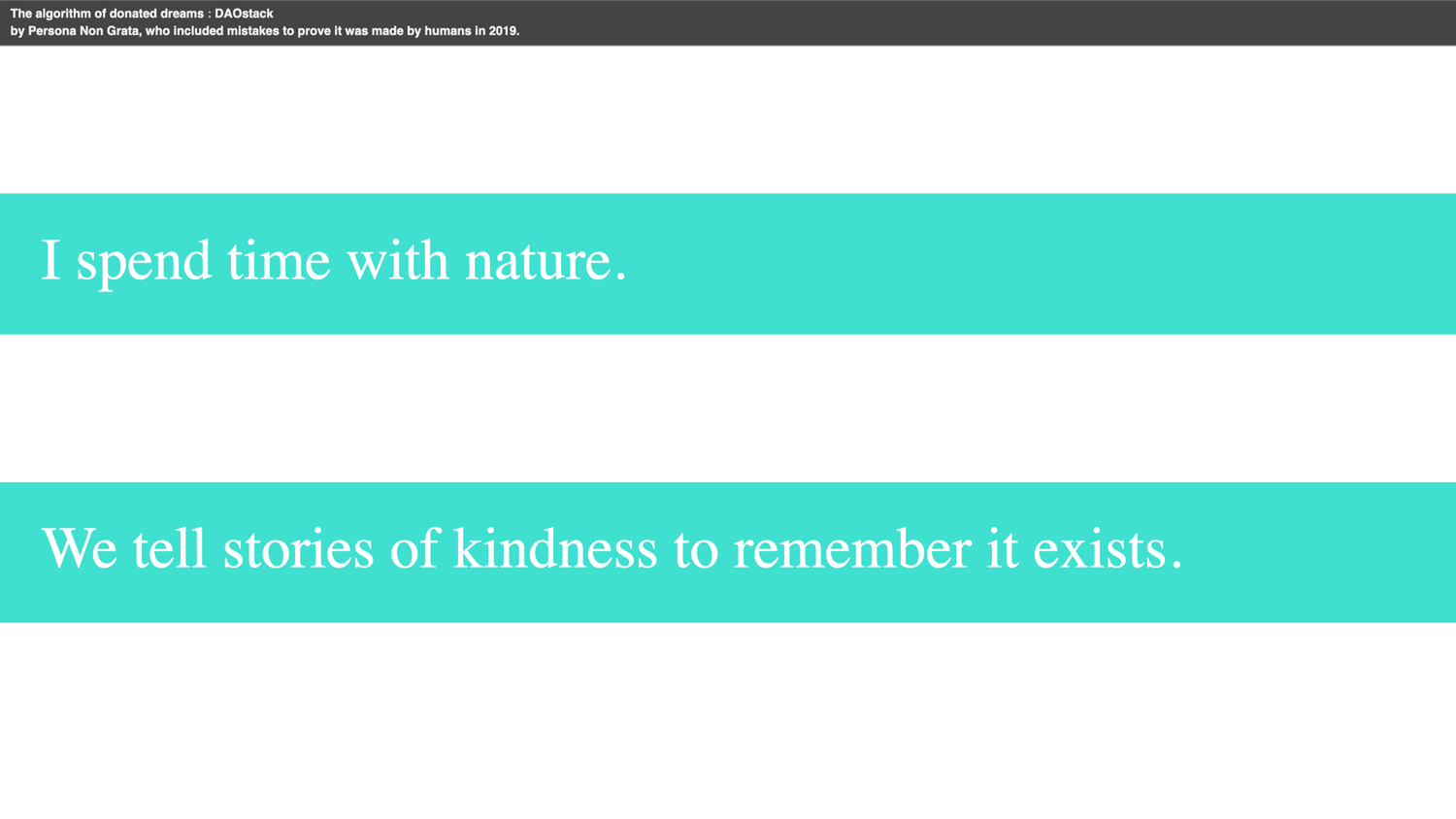 Two poems into one for Taper, an online literary journal for computational poetry and literary art, in general published twice yearly by Bad Quarto. Each issue is edited by a collective. Editing and production is done in coordination with The Trope Tank at MIT, a laboratory directed by Bad Quarto proprietor and publisher Nick Montfort. Taper is not officially associated with MIT or hosted on an MIT server, however.
Experience it alive overhere.
---
Creciendo al revés [Growing backwards]
A story by me and code made available thanks to nickm. Experience it here.
---
These works, first of their kind for me, exist thanks to Judy and nickm at MIT, and to mellisive in 2019.